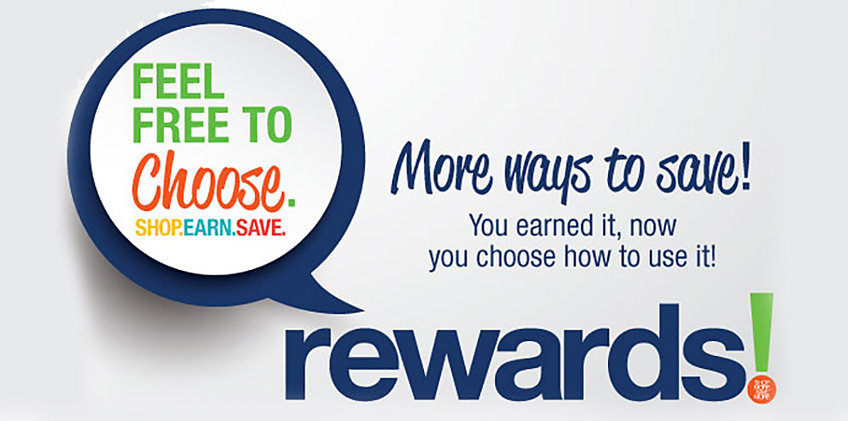 Shop More, Save More with Our Rewards Program
SHOP
After you've signed up for Rewards, just fill your shopping basket with all the items you need for your household.

EARN
You'll earn 1 point for every dollar you spend. Just provide your phone number when you check out and watch the points start adding up as you earn points on groceries, prescriptions and more! Check your points balance on your receipt, online, on the mobile app or the in-store kiosk.
SAVE
Every 200 points you earn become redeemable points. Redeem 200 points for 20¢ off/gallon of gas or BIG discounts on the grocery items you buy the most. The More You Shop the More You Save!
Save Big On the Grocery
Items You Use Most
It's Your Choice! Redeem your Rewards points for BIG discounts on some of the items you use the most like milk, eggs, bread and more! Each month, you can redeem points for your choice of 20 new items. When you check out, just tell your cashier which item on the list you are redeeming your points for and watch the savings add up!


or Redeem Your
Points for FREE Fuel
You can also choose to redeem your Rewards points for 20¢ off/per gallon of fuel at the United Express nearest you. When you are ready to redeem your points at the pump, just type in your Rewards account number at the fuel pump when prompted for a "Fuel Discount Code." This is your Rewards program and you have the power to use your points they way YOU want!
Click & Save
Digital Coupons
No more printing! Digital coupons are now available! Browse our collection of savings on your favorite items and simply click to add them to your account. Use your phone number at checkout and recieve the savings that have been added to your account. Sign up today or view your account to browse the coupon collection.
Wake Up & Smell
The Free Coffee
Introducing the smart way to earn free coffee! Just buy a cup of coffee using your Rewards account and you're on your way to a free cup! Once you buy 10 cups, your next cup is FREE! It's that easy. Keep track of all your purchases on your receipt or online in your Rewards account.
More Ways to Save, Learn
and Get Exclusive Access
Looking for ways to save, learn about new products and find out about exclusive events? Our rewards clubs are designed with you in mind. From babies, kids and pets, to your favorite beer and wine, there's a club for everyone. Click Here to learn more and join a club today!
Need Help With
Your Rewards Account
We're happy to help you with any Rewards Program questions you may have. View our Frequently Asked Questions (FAQs), email us, or call 1-877-848-6483. Please have your Rewards number or phone number handy.


View our tips on how to keep us in your inbox.
---
Simply download our United Market app from iTunes or Google Play, visit us online, or sign up in store.
Restrictions:
Points will expire 30 days from the date earned. Oldest points are automatically redeemed first. There is no limit on the number of points you can earn. Points cannot be earned on guest services, taxes, fuel, store gift cards, variable load financial gift cards, tobacco, or alcohol. Program valid for a limited time.
20¢ off/gallon of gas is limited to 25 gallons.
View our FAQS and Terms & Conditions
*Apple and the Apple logo are trademarks of Apple, Inc., registered in the U.S. and other countries. App Store is a service mark of Apple Inc. Google Play is a trademark of Google Inc.